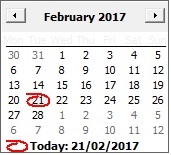 Figure 1: Date Time Picker
The date-time picker is an extremely useful control on forms. Not only does it facilitate the input of dates by users, but it overcomes any confusion between US-style and UK-style date formats when dates are input textually as a combination of numerals and backslashes. On the left is a picture of this control in action automatically highlighting the default date on which I used this control.The control allows the user to move easily one month or a whole year backwards or forwards from the current date. Dates can be entered quickly and accurately: noone used to this well-designed Active-X control would like to revert to entering dates via the keyboard as text. This makes it disappointing that Microsoft have apparently removed the file which created this Active-X calendar tool, but not replaced it by any new control which has similar functionality. Excel 2016 simply lacks an indispensable Active-X control which it enjoyed in the past. So what can one do?
The file which creates the date-time picker is called mscomct2.ocx and used to live in the C:\Windows\SysWOW64\ directory. If you are about to upgrade from Excel 2003, 2007 or 2010 to Excel 2013 or later then you may wish to keep a copy of this file so that you can continue to use it after your upgrade. Unfortunately this file is no longer available for download from Microsoft and only unofficial sites still offer this file for download. The process of making this control available in a later version of Office is not entirely straightforward and precautions are advisable to safeguard your Windows registry and operating system in case you make a mistake.